UdpTraceListener - a UDP TraceListener compatible with log4net/log4j
March 13, 2013
This class is a TraceListener implementation that uses the log4j XML format and sends the XML to a UDP socket. This means you can configure a trace listener to send all your logs to something like http://log2console.codeplex.com.. There is also Harvester which has a TraceListener implementation for streaming over a network.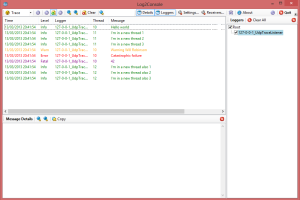 Just configure a new UDP receiver in log4console and they messages will start to stream through. This works nicely with LightSpeed, where you can configure it to send its SQL statements to a TraceListener.
Feel free to include the source wherever you need it, it's under an MIT licence.
This file contains bidirectional Unicode text that may be interpreted or compiled differently than what appears below. To review, open the file in an editor that reveals hidden Unicode characters. Learn more about bidirectional Unicode characters
class

Program

{

static

void

Main

(

string

[]

args

)
{

Trace

.

Listeners

.

Add

(

new

UdpTraceListener

());

Thread

thread1

=

new

Thread

(()

=>

{

Trace

.

WriteLine

(

"

I'm in a new thread 1

"

);

Trace

.

WriteLine

(

"

I'm in a new thread 2

"

);

Trace

.

WriteLine

(

"

I'm in a new thread 3

"

);
});

Thread

thread2

=

new

Thread

(()

=>

{

Trace

.

WriteLine

(

"

I'm in a new thread also 1

"

);

Trace

.

WriteLine

(

"

I'm in a new thread also 2

"

);

Trace

.

WriteLine

(

"

I'm in a new thread also 3

"

);
});

thread1

.

Start

();

Trace

.

WriteLine

(

"

Hello world

"

);

Trace

.

WriteLine

(

"

Warning Will Robinson

"

,

"

warning

"

);

thread2

.

Start

();

Trace

.

WriteLine

(

"

Catastrophic failure

"

,

"

error

"

);

Trace

.

WriteLine

(

42

,

"

fatal

"

);
}
}
This file contains bidirectional Unicode text that may be interpreted or compiled differently than what appears below. To review, open the file in an editor that reveals hidden Unicode characters. Learn more about bidirectional Unicode characters
public

class

UdpTraceListener

:

TraceListener

{

//

For 3.5/2 you can use a List but the class is no longer thread safe.

//

private Stack<string> _messageBuffer;

private

UdpClient

_udpClient

;

private

ConcurrentStack

<

string

>

_messageBuffer

;

private

string

_loggerName

;

private

static

readonly

string

_xmlPrefix

=

"

log4j

"

;

private

static

readonly

string

_xmlNamespace

=

"

http://jakarta.apache.org/log4j/

"

;

public

override

bool

IsThreadSafe

{

get

{

return

true

;
}
}

public

UdpTraceListener

()
:

this

(

"

localhost

"

,

7071

,

"

UdpTraceListener

"

)
{
}

public

UdpTraceListener

(

string

host

,

int

port

,

string

loggerName

)
{

_loggerName

=

loggerName

;

_messageBuffer

=

new

ConcurrentStack

<

string

>();

_udpClient

=

new

UdpClient

();

_udpClient

.

Connect

(

host

,

port

);
}

public

override

void

Write

(

string

message

)
{

Write

(

message

,

"

info

"

);
}

public

override

void

WriteLine

(

string

message

)
{

Write

(

message

,

"

info

"

);

Flush

();
}

public

override

void

WriteLine

(

string

message

,

string

category

)
{

_messageBuffer

.

Push

(

GetEventXml

(

message

,

category

));

Flush

();
}

public

override

void

Write

(

string

message

,

string

category

)
{

_messageBuffer

.

Push

(

GetEventXml

(

message

,

category

));
}

private

string

GetEventXml

(

string

message

,

string

category

)
{

//

The format:

//

<log4j:event logger="{LOGGER}" level="{LEVEL}" thread="{THREAD}" timestamp="{TIMESTAMP}">

//

<log4j:message><![CDATA[{ERROR}]]></log4j:message>

//

<log4j:NDC><![CDATA[{MESSAGE}]]></log4j:NDC>

//

<log4j:throwable><![CDATA[{EXCEPTION}]]></log4j:throwable>

//

<log4j:locationInfo class="org.apache.log4j.chainsaw.Generator" method="run" file="Generator.java" line="94"/>

//

<log4j:properties>

//

<log4j:data name="log4jmachinename" value="{SOURCE}"/>

//

<log4j:data name="log4japp" value="{APP}"/>

//

</log4j:properties>

//

</log4j:event>

string

level

=

"

INFO

"

;

if

(

string

.

IsNullOrEmpty

(

category

))

category

=

"

info

"

;

switch

(

category

.

ToLower

())
{

case

"

fatal

"

:

level

=

"

FATAL

"

;

break

;

case

"

warning

"

:

case

"

warn

"

:

level

=

"

WARN

"

;

break

;

case

"

error

"

:

level

=

"

ERROR

"

;

break

;

case

"

debug

"

:

level

=

"

DEBUG

"

;

break

;

case

"

trace

"

:

level

=

"

TRACE

"

;

break

;

default

:

break

;
}

StringBuilder

builder

=

new

StringBuilder

();

XmlWriterSettings

settings

=

new

XmlWriterSettings

();

settings

.

OmitXmlDeclaration

=

true

;

XmlWriter

writer

=

XmlWriter

.

Create

(

builder

,

settings

);

WriteLog4jElement

(

writer

,

"

event

"

);

writer

.

WriteAttributeString

(

"

logger

"

,

_loggerName

);

writer

.

WriteAttributeString

(

"

level

"

,

level

);

writer

.

WriteAttributeString

(

"

thread

"

,

Thread

.

CurrentThread

.

ManagedThreadId

.

ToString

());

writer

.

WriteAttributeString

(

"

timestamp

"

,

XmlConvert

.

ToString

(

ConvertToUnixTimestamp

(

DateTime

.

Now

)));

WriteLog4jElement

(

writer

,

"

message

"

);

writer

.

WriteCData

(

RemoveInvalidXmlChars

(

message

));

writer

.

WriteEndElement

();

WriteLog4jElementString

(

writer

,

"

NDC

"

,

"

"

);

WriteLog4jElementString

(

writer

,

"

throwable

"

,

"

"

);

WriteLog4jElement

(

writer

,

"

locationInfo

"

);

writer

.

WriteAttributeString

(

"

class

"

,

"

"

);

writer

.

WriteAttributeString

(

"

run

"

,

"

"

);

writer

.

WriteAttributeString

(

"

file

"

,

"

"

);

writer

.

WriteAttributeString

(

"

line

"

,

"

1

"

);

writer

.

WriteEndElement

();

WriteLog4jElement

(

writer

,

"

properties

"

);

WriteLog4jElement

(

writer

,

"

data

"

);

writer

.

WriteAttributeString

(

"

name

"

,

"

log4jmachinename

"

);

writer

.

WriteAttributeString

(

"

value

"

,

Environment

.

MachineName

);

writer

.

WriteEndElement

();

WriteLog4jElement

(

writer

,

"

data

"

);

writer

.

WriteAttributeString

(

"

name

"

,

"

log4japp

"

);

writer

.

WriteAttributeString

(

"

value

"

,

Assembly

.

GetCallingAssembly

().

FullName

);

writer

.

WriteEndElement

();

writer

.

WriteEndElement

();

writer

.

WriteEndElement

();

writer

.

Flush

();

return

builder

.

ToString

();
}

private

string

RemoveInvalidXmlChars

(

string

text

)
{

var

validXmlChars

=

text

.

Where

(

x

=>

XmlConvert

.

IsXmlChar

(

x

)).

ToArray

();

return

new

string

(

validXmlChars

);
}

private

void

WriteLog4jElement

(

XmlWriter

writer

,

string

name

)
{

writer

.

WriteStartElement

(

_xmlPrefix

,

name

,

_xmlNamespace

);
}

private

void

WriteLog4jElementString

(

XmlWriter

writer

,

string

name

,

string

value

)
{

writer

.

WriteElementString

(

_xmlPrefix

,

name

,

_xmlNamespace

,

value

);
}

private

double

ConvertToUnixTimestamp

(

DateTime

date

)
{

DateTime

epoch

=

new

DateTime

(

1970

,

1

,

1

,

0

,

0

,

0

,

0

);

TimeSpan

sinceEpoch

=

date

.

ToUniversalTime

()

-

epoch

;

return

Math

.

Floor

(

sinceEpoch

.

TotalMilliseconds

);
}

public

override

void

Flush

()
{

foreach

(

string

xmlMessage

in

_messageBuffer

)
{

byte

[]

payload

=

Encoding

.

UTF8

.

GetBytes

(

xmlMessage

);

_udpClient

.

Send

(

payload

,

payload

.

Length

);
}

_messageBuffer

.

Clear

();

base

.

Flush

();
}

protected

override

void

Dispose

(

bool

disposing

)
{

Flush

();

_udpClient

.

Close

();

base

.

Dispose

(

disposing

);
}

public

override

void

TraceEvent

(

TraceEventCache

eventCache

,

string

source

,

TraceEventType

eventType

,

int

id

,

string

format

,

params

object

[]

args

)
{

switch

(

eventType

)
{

case

TraceEventType

.

Critical

:

case

TraceEventType

.

Error

:

WriteLine

(

string

.

Format

(

format

,

args

),

"

error

"

);

break

;

case

TraceEventType

.

Verbose

:

WriteLine

(

string

.

Format

(

format

,

args

),

"

debug

"

);

break

;

case

TraceEventType

.

Warning

:

WriteLine

(

string

.

Format

(

format

,

args

),

"

warn

"

);

break

;

case

TraceEventType

.

Information

:

case

TraceEventType

.

Resume

:

case

TraceEventType

.

Start

:

case

TraceEventType

.

Stop

:

case

TraceEventType

.

Suspend

:

case

TraceEventType

.

Transfer

:

default

:

WriteLine

(

string

.

Format

(

format

,

args

),

"

error

"

);

break

;
}
}
}
---
I'm Chris Small, a software engineer working in London. This is my tech blog. Find out more about me via Github, Stackoverflow, Resume